Hailey Bieber – 25 Year Old Hospitalized with Brain Issues With A 'Stroke Like' Blood Clot
Per an Instagram Post by Hailey Bieber, posted on 3/12/2022, she had a recent hospitalization she describes as a "small blood clot" to her brain.
"On Thursday morning, I was sitting at breakfast with my husband when I started having stroke like symptoms and was taken to the hospital. They found I had suffered a very small blood clot to my brain, which caused a small lack of oxygen, but my body had passed it on its own and I recovered completely within a few hours. Although this was definitely one of the scariest moments I've ever been through, I'm home now and doing well, and I'm so grateful and thankful to all the amazing doctors and nurses who took care of me! Thank you to everyone who has reached out with well wishes and concern, and for all the support and love -Hailey"
Details below from this TMZ article state Hailey Bieber's health scare has some more details according to their sources:
Hailey Bieber was hospitalized with a brain condition that doctors think may be COVID-related … sources close to Hailey tell TMZ.
We're told Hailey was admitted to a Palm Springs area hospital a few days ago after suffering a "medical emergency." We're told it affected the way she moved, and the symptoms are typical for much older people. Hailey is 25.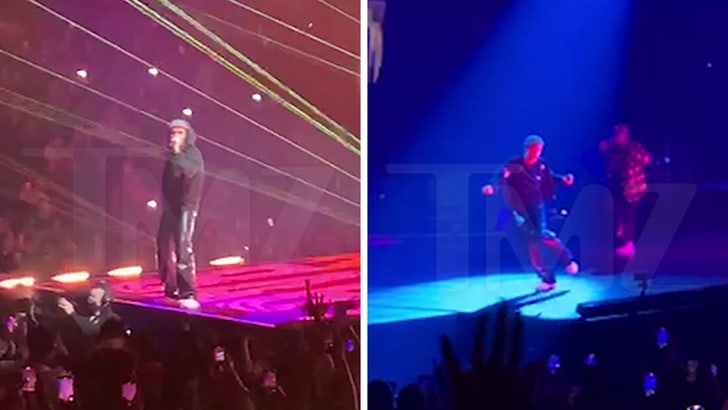 3/7/22 BIEBER ROCKS L.A.TMZ.com
Our sources say doctors ran a battery of tests and are looking to see if the symptoms involve COVID. As we reported, Justin came down with COVID a few weeks ago and has since recovered. As you know, Justin had to postpone his Vegas concert after coming down with the virus.
We're told Hailey has been released from the hospital and doctors are still trying to determine what caused the issues.
Our sources say she's now doing ok.
So was Hailey Bieber vaccinated?
Hailey and Justin did attend the Met Gala September 13, 2021.
Which according to PEOPLE: The Met Gala to Require Attendees to Be Vaccinated Against COVID-19 and Wear Masks
Hailey and Justin both attended the Met Gala, this below image came from VOGUE.
So it would seem that Hailey has been Vaccinated, just given the facts above.
I hope that she uses her platform for good and helps share the risks with others.
Others need to know that the COVID Vaccines do come with risk.
We hope Hailey makes a full recovery.